What is Included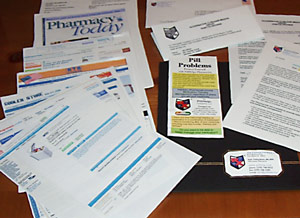 Knowledge ... the best health insurance
MyMedCheckup™ is an excellent investment in prevention. For long term protection and information specific to you, explore PillHelp.com

This particular MEDcheckup has:
&bull A prescreened data sheet for a piece of equipment needed by the patient
&bull Diet tips to prevent drug interactions
&bull Web sites concerning patient's condition, prescreened for accuracy
&bull Graphics depicting the patient's condition before and after treatment
&bull Business card and advertising
&bull A medical release
&bull Talking Points with Doctor of Pharmacy's review and the suggested care plan. You can implement some actions on your own right away. Others you discuss with your doctor(s) first, and implement the suggestions with which they agree.